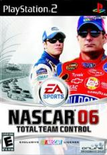 Welcome to NASCAR 06 - Total Team Control Wiki
NASCAR 06 - Total Team Control wiki (TTCWiki) is a wiki which will give you any information needed to play the game better and learn more about the game. However, this wiki will not give you information about the production or history of this game. However, cheat codes are provided.
TTCWiki welcomes you to writing or editing posts whenever you want. However, inappropriate, vulgar, or insulting content will be immediately removed.
NASCAR 06 was, in TTCWiki's opinion, the best NASCAR game ever made. Sadly, no more EA Sports NASCAR games will be produced anymore.
So, have fun on this wiki!
NASCAR 06 - Total Team Control
Edit
NASCAR 06 - Total Team Control is, in our opinion, the best NASCAR video game ever made, by far. Even though some people think '05, '07, '08, or '09 is better, the ratings on different video game websites says it all. There are so many improvements from the other games that were made in the '06 video game. For example, the ability to have teamates block, swap, follow, and work with you really says something. You can still do that in the other games, but it is not an automatic setting. Also, there is much more realistic wrecking graphics in the '06 game than in the other games.
If you don't have it, buy it! You'll really get a lot of enjoyment out of it.
Latest activity
Edit
Community content is available under
CC-BY-SA
unless otherwise noted.