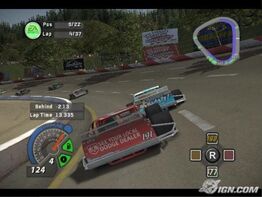 There are a total of 31 fantasy drivers in the
NNS
or Busch Series NASCAR '06 video game. Also, there are 14 Busch Series fantasy teams, one which is comprised of fantasy drivers and non-fictional drivers. This is
Kevin Harvick Inc.
See
"List of Busch Series Fantasy Teams"
for more information on the particular teams. Fantasy drivers generally have
fantasy sponsors
. An exception to this is again the two fantasy drivers of Kevin Harvick Inc.
56 Roger Sweeney
Sponsor - ConduCaire
Chevrolet Team Hiromi
63 Kyle Clayton
Sponsor - EasyMix
Chevrolet Team Hiromi
82 Tyler Ferris
Sponsor - Bob's Wire Fencing
Ford DRK Racing
83 Tracy Johnson
Sponsor - Which Way
Ford Red Tiger Motorsports
84 Harley Flanagan
Sponsor - Jimmy Built
Ford Canier Motorsports
86 Jed Thomas
Sponsor - Heavy Breathers
Ford Orange County Motorsports
103 Donny Rogers
Sponsor - Reed's Weed & Feed
Chevrolet HulaMonkey Motorsports
106 Richard Kennedy
Sponsor - ShowStopper Graphix
Dodge Papa Racing
107 Alvin Shields
Sponsor - Lawless Root Beer
Dodge Papa Racing
108 Archie Siegel
Sponsor - Courtesy Coils
Chevrolet HulaMonkey Motorsports
109 Timothy Marshall
Sponsor - Zombie Tachometers
Chevrolet Team Hiromi
110 Blake Schultz
Sponsor - Outtake Intake
Dodge Team Forbeck
112 Luke George
Sponsor - ZAP Spark Plugs
Ford Orange County Motorsports
113 Chad Erickson
Sponsor - Turtle Juice - Octane
Dodge Team Forbeck
116 Nick Norton
Sponsor - Whitmann's Repair
Ford DRK Racing
117 Frankie Taylor
Sponsor - B4 Car Parts
Chevrolet Stash Motorsports
119 Wesley Clark
Sponsor - DCSpark
Dodge Mad Motorsports
120 Jon Hamilton
Sponsor - Mr. Clean
Chevrolet Kevin Harvick Inc.
121 Boston Finley
Sponsor - Spindall Gear Lube
Chevrolet Stash Motorsports
123 Ron Jordan
Sponsor - RDA Throttle Bodies
Chevrolet HulaMonkey Motorsports
124 Kurt Hamm
Sponsor - Coffee Blasts Cereal Dodge Stark Racing
131 Carl Lyons
Sponsor - Good Buddy CB Radios Dodge Mad Motorsports
133 Luke Trigger
Sponsor - Old Spice
Chevrolet Kevin Harvick Inc.
135 Morgan Irvin
Sponsor - NeeHi Septic Service
Chevrolet Team Strickland
137 Josh Reid
Sponsor - Hometown Quality
Ford Canier Motorsports
138 Justin Smith
Sponsor - A.S.H. Fire Extinguishers
Dodge Stark Racing
139 Todd Peterson
Sponsor - Wilson Harnesses
Ford DRK Racing
149 Doug Powell
Sponsor - Mucho Gas Additive
Dodge Stark Racing
152 Randy Richardson
Sponsor - 52 Racing Shoes
Chevrolet Team Strickland
178 Neil Sidney
Sponsor - Notme Mufflers
Ford Red Tiger Motorsports
184 Gil Clark
Sponsor - WhoaNelly Brake Shoes
Dodge Liger Team Racing
Community content is available under
CC-BY-SA
unless otherwise noted.